1. University of Toronto
The Faculty of Law at the University of Toronto offers unparalleled opportunities for the study of law. The Faculty is committed to creating a genuine intellectual community in which each of its members—students and professors alike—work closely in developing a deep, critical understanding of the strengths and limitations of law and legal institutions.
For first-year admission, please note that:
Candidates are expected to possess a minimum three years of full-time undergraduate study (by May of entry year).
The LSAT required, alternate tests are not acceptable.
The acceptable LSAT scores are tests from June 2016 to January 2021, inclusively.
A test of English language proficiency (e.g. TOEFL, IELTS) is not required for JD first-year and transfer applicants.
Letters of recommendation are not requested, and interviews are not used for admission.
There are no quotas for any applicant type.
International students are given the same consideration as domestic students, and assessed on the same criteria.
2. University of British Columbia
For over 70 years, the Allard School of Law at the University of British Columbia has educated leaders in both the community and the profession. The incoming students join a distinguished family of graduates that have excelled in all areas of law and government and have made a significant impact on some of today's most pressing issues around the world.
Admission
Degree from a recognized university or a minimum of three years toward such degree required
Application deadline—December 1
All applications received by deadline date are considered
LSAT required
We will accept the January LSAT, however, we strongly encourage applicants to take the LSAT prior to the January test date. An applicant who wishes to rely on the January LSAT score may diminish his or her chance of gaining admission due to the delayed review of his or her file.
Multiple LSAT scores, highest used
Oldest LSAT score accepted—October 2013
Median GPA—83 percent
Median LSAT score—166
Application fee—$91.55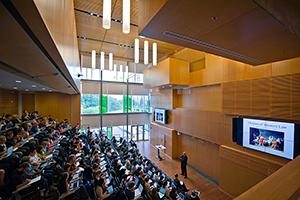 3. York University - Osgoode Hall Law School
Osgoode is the oldest law school in Ontario and among the largest common-law law schools in Canada. The Law School's size allows for an exceptionally diverse and innovative curriculum, which enables students to choose an academic program substantially tailored to their own academic interests and career aspirations. Osgoode has an internationally renowned full-time faculty and a tremendous array of talented adjunct faculty members from the Toronto bench and bar. Few law schools in the Commonwealth can compare to Osgoode's faculty in terms of the quality of their research and the influence that research has had, and continues to have, on the directions taken by the law, public policy, and legal scholarship. Thoughtful, articulate, and scholarly in their approach to teaching and research, our faculty make the study of law a meaningful engagement with relevant and challenging issues.
LSAT Requirement
Highest score used
Oldest score accepted is June 2014
Application Information
Application deadline—November 1
Application available—August
Application fee—$100
4. Queen's University
The compact campus of Queen's University borders on Lake Ontario and is within walking distance of downtown Kingston. Located midway between Toronto and Montreal, Kingston has a population of about 123,000. The beauty of its historic buildings, lakefront location, vibrant downtown, and proximity to the world heritage site of Fort Henry have made it a popular destination for students and tourists. Macdonald Hall is fully accessible and home to the Faculty of Law.
5. Western University
Western University, founded in 1878, is one of Canada's top research-intensive universities. It delivers the "Western Experience," an exemplary learning experience that engages the best and brightest people, challenging them to meet ever-higher standards in the classroom and beyond.
6. University of Victoria
The Faculty of Law at the University of Victoria admitted its first students in 1975. Since then, the Faculty has earned an unparalleled reputation as an innovator among Canadian law schools. Its national reputation for excellence has been developed by a dedicated, first-class faculty and an intellectually vibrant and diverse student body.
7. Calgary Law
The University of Calgary is a living, growing, and youthful institution that embraces change and opportunity. They have been named
North America's Top Young University
five years running, and it is done by pushing the limits, challenging their students to do better, and seeking knowledge—wherever that journey takes us.
8. Schulich School of Law, Dalhousie University
Attending the
Schulich School of Law
at Dalhousie University goes beyond choosing one of the most prestigious and comprehensive legal educations in North America. In the tight-knit Schulich Law community, it's easy for students to make personal and professional connections—connections to friends, connections to faculty, and connections to an extensive network of diverse, accomplished alumni.
9. University of Alberta
The University of Alberta (U of A) is one of Canada's largest research-intensive universities. The university serves more than 38,200 students in more than 200 undergraduate programs and 170 graduate programs. The university comprises five campuses (North-Main Campus, Augustana Campus, Campus Saint-Jean, South Campus, and Downtown-Enterprise Square). North Campus, which houses the Law Centre, is located on the banks of the North Saskatchewan River in vibrant Edmonton, Alberta, Canada—a thriving and diverse city with a population of nearly one million.
10. University of Manitoba Law
The University of Manitoba has been involved in legal education since 1885. The Faculty's undergraduate program provides a standard curriculum.The Faculty is located on the main campus of the university, which is situated on the banks of the Red River in a suburb of Winnipeg, a city of approximately 727,500 persons in the centre of Canada. It boasts a rich cultural life, being home, for example, to the Royal Winnipeg Ballet and the Canadian Museum for Human Rights. The university has approximately 29,929 full-time students and 18 faculties and schools, many with extensive graduate programs and full recreational and other facilities.
11. Thompson Rivers University
Thompson Rivers University Faculty of Law, in Kamloops, British Columbia, offers a dynamic, challenging, and highly rewarding legal education located in the stunning natural beauty of British Columbia's glorious Thompson Valley. Their three-year JD program offers students a well-established curriculum taught by an
outstanding group of legal academics
with the benefit of state-of-the-art facilities in an
award-winning, new law school building
that includes bright, modern classrooms; student study spaces; and spectacular views of the Thompson River Valley and adjacent mountains. It also houses a new 21st century
law library
. This university earns it's place due to the low number of law graduates in British Columbia despite the high population of the province itself, the province is almost always in need of incoming legal graduates.
12. University of Windsor
The University of Windsor law faculty welcomed its first law students in 1968. In five decades, Windsor Law has earned distinction among law schools for our emphases on access to justice, community service, clinical and experiential learning, and taking advantage of the border location—transnational law.
13. University of Saskatchewan
The University of Saskatchewan College of Law is located in Saskatoon, Saskatchewan, on the banks of the South Saskatchewan River in a beautiful, natural, and spacious setting. Saskatoon is a modern prairie city with a good balance of economic, cultural, and educational institutions.
14. University of New Brunswick
Opened on October 8, 1892, the University of New Brunswick Faculty of Law (UNB Law) is the second oldest university-based common-law faculty in the commonwealth. The university itself traces its origins to a royal charter granted in 1785. In addition to law, the university offers a wide range of graduate and undergraduate programs. The total full-time student enrollment on the Fredericton campus is approximately 11,000.
15. Bora Laskin Law - Lakehead University
The Bora Laskin Faculty of Law at Lakehead University is one of Canada's newest law school. Located in Thunder Bay, Ontario, and situated in the historic Port Arthur Collegiate Institute (PACI) built in 1909, the law campus overlooks Lake Superior and the Sleeping Giant.
16. Ryerson University
The Lincoln Alexander School of Law at Ryerson University builds on this distinctive history. Situated in Canada's largest urban area and financial centre, they are known for their dedication to meeting societal needs through career-relevant education and practical learning. In recent years, a focus on entrepreneurship has been added to Ryerson's academic teaching and research to better prepare students to meet evolving societal needs.